In memory of my beloved fur baby cat Manya
(Manya as a girl's name is a variant of Mary (Latin), and the meaning of Manya is "star of the sea".
Even not with me anymore, she is still a bright star in my life.)
The Cat Who'll Live Forever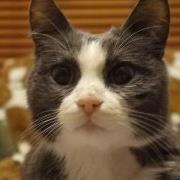 "You will live forever. I will write a book about you. About wonderful you. About the extraordinary journey you made in this life. About how you survived and overcame difficult times, and how you helped me to survive. About you, who is the best closest friend in my life."

This is what I said and promised in the last days of Manya's life.

I never wanted to let her go. More correctly, I never wanted to be away from her. I always wanted to be with her. And to keep Manya alive forever I decided to write a book about her.
Today I came across one web-site. It was about a cat, and about a book about the cat.
And I found some words that resonated in me.
Sometimes you feel something, but it is difficult to express it in words. It's not a matter of language, but a matter of correct words that precisely deliver what you want to express.
And I found that words in that web-site. And I understood with a relief that I'm not alone in this feeling. There are people who can and will understand why things were done in a way they've been done, why decisions at certain moments in time were made the certain way.
It is like accidentally meeting a person who suddenly says "I know what you mean".
And you feel so much better.
It is not that you needed that person, and him saying that.
But when it happens, it brings you up a little bit. It feels like a friend's shoulder you can put your head on and say nothing, and everything will be understood.
Thanks to Peter Gethers, the author of a book about his cat "The Cat Who'll Live Forever", for words he said in his letter.
Thanks for words that I was seeking to express my feelings:
Let me just say that I'm one of the few people in the world who's not just deeply attached to my feline pal, I've been psychologically, socially and emotionally dependent on him.

And loving every minute of it.
Will I be able to do what I've promissed?
Will I be able to transfer and picture what I have been seeing and feeling inside me all this time, into words?
I want to do this. I really want.
I want to make Manya live forever.

What Manya Inspired Me For
Having a fur loving soul near me, I spent all my love on her. I did things I like, and Manya was always around or was waiting for me. It was good to see her at the end of any of my endeavours. Since I lost her, I lost a huge meaning in life. Eventually she became my muse for projects I organically melt into:
These projects bring light and joy into my life. And any time I do something for them, I feel Manya sitting on my lap, I feel her warm fur, and feel her support. She is with me again. She is my muse that will stay with me forever.
Articles from Ozzi Cat
Australian National Cat Magazine
Have you seen a cat who looks like Manya?
Where does he or she live? Any fun stories or moments? Can you share his or her photo with me? :)

or Post a Comment into the Comments box
It would be lovely to hear from you!
Furrcheers!
=^.^=
(Natalie,
Manya The Cat
's Mom)